Podcast: Play in new window | Download
S'abonner : Google Podcasts | Stitcher | RSS | More
L'invité : David Serfass, maître de conférences en histoire de la Chine et de l'Asie orientale contemporaine à l'Inalco et chercheur à l'IFRAE (Institut français de recherche sur l'Asie de l'Est).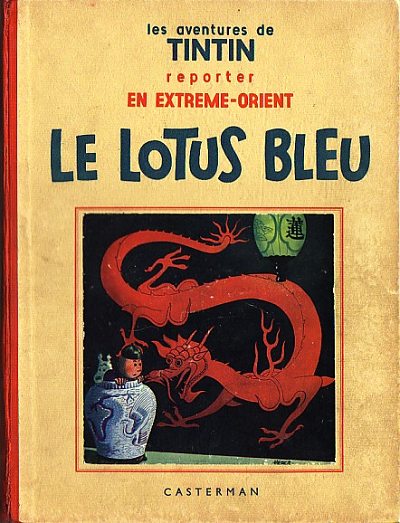 L'album : Le Lotus Bleu, publié à partir de 1935
La discussion :
Le synopsis de l'album (1'15)
La conception de l'album, transformée par les contacts entre Hergé et des étudiants chinois, dont Tchang Tchong-Jen (2'50)
La volonté de déconstruire les clichés orientalistes… sans y parvenir tout à fait (4'20)
L'offre de service faite à Hergé par le Kuomintang en 1939 (8'10)
Une représentation outrée des Japonais (9')
Des clichés sur la Chine répadus à l'époque ? (10'50)
La manière dont Shanghai est représentée, avec la présence des britanniques, les contrôles des papiers… (12'25)
La diversité de Shanghai, et l'impérialisme britannique représenté dans la BD (15'35)
Le contrôle des espaces, des papiers, dans les différentes juridictions (17'50)
Les inscriptions chinoises figurant dans la ville, avec un certain nombre de slogans politiques (19')
La représentation de la Chine « ordinaire » dans l'album (22'40)
Les inondations de 1931 et leur importance (23'34)
La représentation du Japon et de son impérialisme informel puis formel (27'10)
L'incident de Moukden (18 septembre 1931) et sa transposition dans l'album (30')
La Mandchourie et Shanghai concernées par l'occupation japonaise (33')
Un Japon présenté comme supérieur technologiquement, à l'aide notamment du télégraphe (35')
Le rôle de la presse internationale et de la « guerre médiatique » où Tintin joue lui-même un rôle (38')
La Société des Nations un peu ridiculisée, le rôle du Japon y étant plus complexe (40')
La Chine représentée comme n'ayant pas d'État ou de gouvernement, mais des sociétés secrètes (44'50)
Le rôle de l'opium à cette période, utilisé par le Japon, et la sociabilité des fumeries d'opium (47'30)
La postérité de l'album (53'50)
Bibliographie
League of Nations, Report of the Commission of Inquiry, 1er octobre 1932.
League of Nations, Japan's Case in the Sino-Japanese Dispute [discours de Matsuoka Yôsuke, déc. 1932-fév. 1933, pdf], 1933.
Travaux sur les thèmes abordés
BERGÈRE, Marie-Claire, Histoire de Shanghai, Paris : Fayard, 2002.
BICKERS, Robert A., Empire made me: an Englishman adrift in Shanghai, London : Allen Lane, 2003.
BIROLLI, Bruno, Ishiwara : l'homme qui déclencha la guerre, Paris : Armand Colin, 2012. Documentaire Arte
BROOK, Timothy ; WAKABAYASHI, Bob T. (dir.), Opium Regimes: China, Britain, and Japan, 1839-1952, Berkeley : University of California Press, 2000.
BURKMAN, Thomas W., Japan and the League of Nations: Empire and world order, 1914-1938, Honolulu, T.H. : University of Hawaiʾi Press, 2008.
COURTNEY, Chris, The Nature of Disaster in China: The 1931 Yangzi River Flood, Cambridge : Cambridge University Press, 2018.
ELLEMAN, Bruce A. ; KOTKIN, Stephen (dir.), Manchurian railways and the opening of China : an international history, Armonk : M.E. Sharpe, 2010.
GROSSER, Pierre, L'histoire du monde se fait en Asie : une autre vision du XXe siècle, [2017] Paris : Odile Jacob, 2019.
HENRIOT, Christian, Virtual Shanghai : https://www.virtualshanghai.net/
ORBACH, Danny, Curse on this Country: The Rebellious Army of Imperial Japan, Ithaca : Cornell University Press, 2017.
PAULÈS, Xavier, L'Opium : une passion chinoise (1750-1950), Paris : Payot, 2011.
PAULÈS, Xavier, La République de Chine (1912-1949) : Histoire générale de la Chine, Paris : Les Belles lettres, 2019.
WEI Shuge, News under Fire: China's Propaganda against Japan in the English-Language Press, 1928-1941, Hongkong : Hong Kong University Press, 2017.
YANG Daqing, Technology of empire: telecommunications and Japanese expansion in Asia,1883-1945, Cambridge, Mass. : Harvard University Asia Center, 2010.
YIN Cao, From Policemen to Revolutionaries: A Sikh Diaspora in Global Shanghai, 1885-1945, Leiden: Brill, 2017.
Publications sur le Lotus bleu
COBLENCE, Jean-Michel ; TCHANG Yifei,  Tchang!: Comment l'amitié déplaça les montagnes, Bruxelles : Éditions Moulinsart, 2003.
GODDEERIS, Idesbald, « Racism for beginners: construction of Chinese in twentieth-century Belgian comics », in KOWNER, Rotem ; DEMEL, Walter (dir.), Race and racism in modern East Asia: Western and Eastern constructions, Leiden : Brill, 2013, vol.1 p.231-259.
MÉRAND, Patrick ; LI Xiaohan, Le Lotus bleu décrypté, Saint-Maur-des-Faussés : Éditions Sépia, 2009, avec des versions partielles en ligne ici et ici
MOUNTFORT, Paul, « 'Yellow skin, black hair … Careful, Tintin': Hergé and Orientalism », Australasian Journal of Popular Culture, vol. 1, n°1, 2012, p. 33-49.
MALRAUX, André, La Condition humain, Paris : Gallimard, 1933.
MAO Dun, Minuit, trad. par Zi Ye [1933] Paris : Robert Laffont, 1972.
https://www.themodernnovel.org/asia/other-asia/china/maodun/midnight/
PRATT, Hugo, Corto Maltese en Sibérie, [1974-77] Paris : Casterman, 1979.
TAKAMI Jun, Haut le cœur, trad. par Marc Mécréant, [1960-63] Arles : Picquier, 2006 (Poche). http://www.editions-picquier.com/ouvrage/haut-le-coeur/
YOKOMITSU Riichi, Shanghai : a novel ; translated with a postscript by Dennis Washburn, [1928-31] Ann Arbor : Center for Japanese Studies, University of Michigan, 2001.
https://scholarspace.jccc.edu/cgi/viewcontent.cgi?article=1012&context=lib_pp